In rock climbing, you enter rugged terrain and at very high altitudes. Here you get a breathtaking view of the landscape in Tanzania and after the climb you will experience the wonderful feeling of having put in a good performance.
MOUNT KILIMANJARO
Mount Kilimanjaro is the highest mountain in Africa and the tallest freestanding mountain on earth. Crowned with an everlasting snow-cap, this majestic mountain can be found inside the Kilimanjaro National Park of Tanzania.
MOUNT MERU
Mount Meru is located in the heart of Arusha National Park and it is 50 miles west of Mt. Kilimanjaro. Mt. Meru is a massive volcano reaching 14,980 feet (4,565 meters). This trek serves as an ideal warm up for Mt. Kilimanjaro due to its altitude acclimatization and hiking distances. This trek is also geared towards hikers that prefer less crowds and a challenging ascent.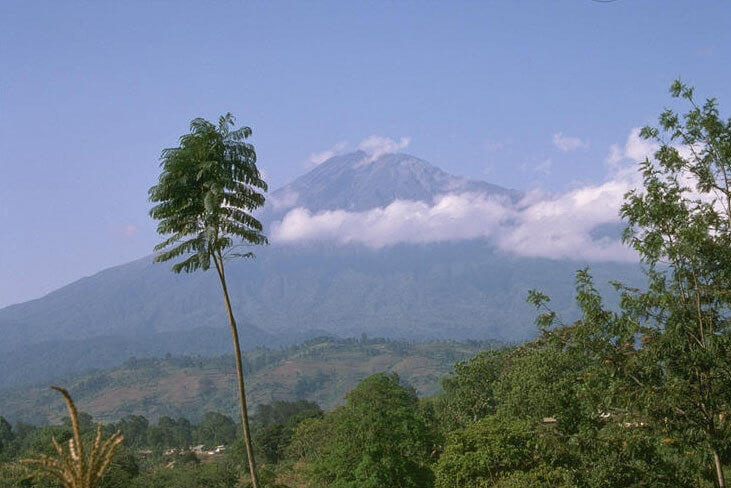 CLIMBING GUIDE
Through this website, we provide prospect climbers with a comprehensive guide for climbing the Kilimanjaro and Mt. Meru that contains accurate and valuable information to increase one's chance of a successful summit when climbing Mt. Kilimanjaro and Mt. Meru. Detailed itineraries, route maps, useful hyperlink, stunning pictures and photography of all the major routes, including the Lemosho, Machame, Marangu, Mweka (only used for descending) and Umbwe routes.

MOUNTAIN CLIMBING PREPARATION
To further assist climbers with preparations on hiking to the summit of these famous mountains, we can assist with essential advice on mental and physical preparation for climbing Kilimanjaro. Other useful information includes travel and transfer details, as well as health issues to take not of, as well as a detailed breakdown of what to expect from meals, porters and guides during a hike.
RESERVATION SERVICE
Hofland Expeditions has more than 10 years of experience in equipping climbers to reach the summit of Mt Kilimanjaro and Mt. Meru in Tanzania. Our experienced guides have a proud success rate and have safely guided most of our climbers to the Uhuru Peak.
We specialise in tailor-made packages to suit individual requirements and preferences, as well as many excursion and day trip extensions to the surrounding game reserves and the tropical islands of Zanzibar and Pemba. Please feel free to ask for an offer through the reservation page or to ask us if you have any questions.
For more information about climbing Mt. Meru and Mt. Kilimanjaro, click on the links below.