Popular tours and excursions on Zanzibar Island include:
Stone Town
This tour takes you through fabled Stone Town, where history appears to stand still. A visit to the House of Wonders, the Palace Museum (People's Palace), Dr. Livingstone's House and the Arab fortress, you will discover a fascinating look at the essence of Zanzibar. You see bustling markets, winding streets, beautifully carved and studded doors, two cathedrals and countless mosques! Stone Town has some excellent souvenir shops with lots of crafts to choose from.
Spice plantations

The history of Zanzibar would be incomplete without the cloves, nutmeg, cinnamon, pepper and many other spices grown on Zanzibar. This can be seen in the plantations just outside Zanzibar town. You will receive a detailed description about the great variety of herbs and their uses in cooking and cosmetics. Visitors are fascinated by the large number of different types of spices that are produced and their tremendous value against many diseases. This is also the cheapest place to buy spices, herbs and oil.
Jozani Forest
The Jozani Natural Forest Reserve is located in the central east region of Zanzibar island and is home to the rare Red Colobus monkey, which is characteristic for Zanzibar. These monkeys have a lot of character, roam freely and are incredibly photogenic. Jozani is also home to many other species of monkeys, including Syke's monkeys, small bucks and bush pigs. The elusive Zanzibar leopard (last presented several years ago) is said to be here at night feeding – perhaps this is why the reserve is only open during the day? Jozani has an excellent nature trail and the guides are well trained and very informative.
North Coast Zanzibar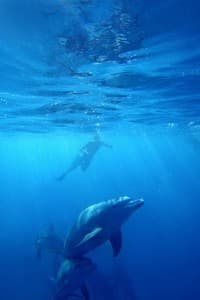 A nice stir along the pristine north coast will take you to Ras Nungwi, a sleepy fishing village on the northern tip of Zanzibar island. It is the Dhow capital of Zanzibar, where you are able to see the traditional methods of dhow construction in action. This area of Zanzibar has some fantastic beaches and nearby coral reefs are ideal for diving and snorkeling. The local villagers have a turtle sanctuary where injured turtles and other marine animals are nursed until they are healthy again and be released back into the warm waters of the Indian Ocean.
Kizimkazi Mosque & Dolphin Tour
The Kizimkazi fishing village is located on the southern tip of the island and is home to several schools tumblers, which can often be seen after a short boat ride from the village. If you heeeft lucky, you can get very close to the dolphins, which is a very rewarding experience for swimming. Kizimkazi is also the site of a 12th century old mosque, the first evidence of the presence of Islam in East Africa and is worth both natural and cultural reasons for a visit.
Prison island
The prison island or or Changu Island is near the old stone city Stone Town and was jailed for misbehaving slaves. Originally it was used by the Arabs to hold slaves, and then a prison was built by the British, but it was never used. The island is surrounded by a beautiful coral reef, ideal for snorkeling, and a beautiful white beach for sunbathing.
It is also home to a family of Aldabra giant tortoises from the Seychelles introduced in the late 19th century. This island is perfect for a day out with refreshments available throughout the day. It also has a small restaurant where you can enjoy freshly caught local fish.
Other islands near Stone Town are Chapwani, Chumbe and Bawe.